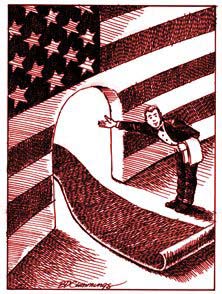 One of my favorite blogs is
Working Immigrants
written by Peter Rousmaniere (Roo-man-ear). Peter writes about the "business of immigrant work: employment,
compensation, legal protections, education, mobility, and public policy".
I long ago subscribed to his feed and highly recommend reading his posts if you are interested in thoughtful and well balanced analysis on immigration and the sometimes unforeseen effects it causes to both Americans and illegal immigrants.
Peter's latest post "
White House PowerPoint outlinge of its proposal
", provides us a glimpse into the details of the immigration proposals which call for a Border Patrol manpower of 18,300. 370 miles of fencing; funding obtained and contracts in place to put at least 300 miles of southern border under electronic monitoring. A "no release of deportable aliens caught at the border" policy.
The first page of the proposal includes:
Securing U.S. Borders
Give employers the tools necessary to verify immigration status of who they hire, and hold them accountable to do so
Provide a lawful channel for needed temporary workers (referred to a "Y-visa" holders)
Bring illegal workers out of the shadows (offering hem what we call a "Z visa") without amnesty
Require English proficiency, civics training, oath of allegiance

All policies must be workable

(comparatively simple, efficient, not subject to undue litigation) -- do not repeat the 1986 failure


Here is a copy of the
White House Immigration Proposal PDF
. It ends with a "DELIBERATIVE - FOR OFFICIAL USE ONLY" disclaimer, so, it led me to wonder how this copy surfaced. Peters post links to the document at The Immigration Portal (
ILW.COM
).
The proposal includes implementation of a
Real ID
. One of the criticisms of illegal immigration is that it leads to an increase in identity theft. The Real ID is proposed as a means to stem the wideflow use of fraudulent Identification Cards, Drivers Licenses and Social Security by illegal immigrants. Critics of the Real ID claim that it's implementation will result in
racial profiling
. Whatever the future holds, hopefully they do not lead to many instances such as the one experienced by
this Alaskan woman
.
Technorati Tags:
immigration
,
illegal immigration
,
read id
Powered by ScribeFire.